Cars & Boats

Much as one wishes it could be otherwise, because of the small number of Millers built, it is rare for a Miller race car or significant race part to become publicly available. There are a few more cars for sale, in addition to the ones listed. If interested, please email.

1941 Miller-Tucker L-510 engine parts

Miller-Tucker L-510 crank, rods, pistons, cams and bearings. Excellent condition. Will accept a reasonable offer.
Email Denny Golden at: 206mphroadster@gmail.com








Runs on stand. Asking $65,000 OBO


Contact Ernie Harmon Cell 909-841-9080






Offenhauser drawings and patterns

Van Dyne Engineering has for sale: Drawings, Patterns, some Tooling for the Offenhauser - Meyer & Drake - Drake family of Indy, Sprint, Midget engines.
These engines have the Most Amazing American Historical Significance of any engine designed for racing.
Big Offenhauser Indy 255 - 270 , Sprint Offenhauser 220 , Indy Offenhauser Turbo 159 , Midget Offenhauser 97 - 110 - 120 , Indy 160 Turbo V8 .
The 255 block patterns are at the foundry. I have had two beautiful castings poured, nice.

We have a spare Hennan Froude G490 EH dyno for sale. Big heat exchangers for engine cooling. This dyno was purchased from TRD several years ago.
Also have Tobin Arp PM 1300 with lots of tooling including tool setting fixture and tool grinder. This machine is for boring connecting rods and pin bushings.


If interested call Stewart Van Dyne or Tres Van Dyne 714-847-4417
Not going out of business, just downsizing.






Wanted: 15 inch smooth face Halibrand wheel, width is 5 inches. Needed for a Helligas widebody big car restoration.

Contact: Mike Bauman
618-395-7195



Miller oil pump. Discovered by John Jackson Sr. in 1970 with along with a Miller 151 C.I. marine engine sprint car in a garage next to the old Charlotte Speedway - $2,900/offers

Contact: George Albright
Ocala,Fla.
gnalbright@gmail.com
cell 352 843 1624 weekdays 10-4 EST best








Miller body and 122 straight-8 supercharged engine

Body line of ownership: Harry Miller--> Frank Lockhart--> M.A. Yagle -->-->Tiny Gould (w/Dick Greene)--> Chuck Davis--> Tommy Milton--> John Baeke


This body was one of the single-man 91cid Lockhart-Millers. According to Chuck Davis, originally constructed in 1926, it competed for at least 6 seasons, through 1931 (including 6 Indy 500s 1926 - 1931, and >64 board track races). Drivers included Bennett Hill, Louis Meyer, Pete DePaolo, Dutch Bauman, Bob McDonogh, Ray Keech, Frank Farmer, Larry Beals and Zeke Meyer. Ray Keech, running with the livery of Simplex Piston Ring Spl (car #2) won the 1929 Indy 500 with this body. Keech was killed in this same car 15 days later on the boards of Altoona, PA when he tangled with Robinson and Woodbury, who also was killed (see photo). I have the original typed AAA report of the accident. Following Keech's death, this car was salvaged, repaired and reconfigured to comply with the new 1930 AAA two-man formula. This was accomplished by placing a dart in the body, thus widening the car (the dart clearly visible underneath the racecar tail today (see photo). Farmer campaigned the car with mostly Betholine sponsorship (car #33). Driving the same car which three years earlier had claimed Keech's life, Farmer met similar fate, Aug. 28, 1932 racing on the asphalt of Woodbridge, NJ. According to Dick Greene, Farmer and driver Bill Neapolitan had an ongoing feud over a mutual femme fatale. The grudge continued onto the track, where ultimately aggressive driving caused both to tangle, with Farmer and Neapolitan being killed. The car was again repaired and would race again. Today the body exists with its final livery colors, number and sponsorship intact: yellow/red Pedrick Piston Ring Special (#9).

The car comes with a complete Miller 122 straight-8 supercharged engine (with early trombone manifold and Miller carb) and boxes of assorted parts (see photos).

Price: Offers considered

Contact: John Baeke
c 913-406-2262
email: JBaeke@ParkPlaceUSA.net
Miller 220 block (backup block for the 1932 Lion Head Miller) - $15,000

Complete with valves, springs etc. It is in excellent shape and has been stored for over 40 years under wraps.
In 1932, the first Miller 220s appeared at Indy. The Lion Head #6 car, running one of the first four Miller 220s, came in second. Photos of the car and sister engine on page 344 of "The Miller Dynasty". The car first ran in 1930 as the #16 car, with a Miller-Schofield 183: Shorty Cantlon drove and finished second.
Contact: Andy Vitek andrew.vitek@wellsfargoadvisors.com 215-514-5812






1929 Gar Wood Miss America VIII with 1931 Twin Miller V16 Engines - SOLD



Recently reunited after 70 years apart, the hull and the special engines designed for it are utterly incredible. Perhaps more miraculous than the fact that this extremely famous one-off race boat and one-off engines have survived the last 82 years is the level of restoration the two have received. While the hull is not quite completed the engines are finished and sound incredible! Over 75% of the hull in Miss America VIII is the original wood, for a wooden race boat, this is remarkable. Prior to the recent restoration, the Eighth was a running boat in the early 1990s (with two WW-II Packard PT boat engines), and exhibited at several boat shows across the country. Today, only three of the original ten Miss America boats exist (VIII, IX, and X), the Eighth is the only one with correct power.

Both engines have been completely restored by the world class engine shop, Zakira's Garage in Ohio to exacting specifications and are show quality. Stronger rods and replacable crank bearings make this a duty cycle stronger than original rebuild. They also were run-in on a dyno and are currently installed in the hull. The woodwork, stain, build up finish and lettering has recently been completed by Doug Morin.


More photos on their website http://morinboats.com/Morin_Boats/Brokerage/Pages/1929_28_Gar_Wood_%22Miss_America_VIII%22.html#grid


Doug Morin and Dana Mecum photos









Zakira's Garage is producing authentic Miller 122 and 91 parts - motors, chassis, etc. They can also build complete cars. These are being made from the original Miller drawings and patterns to an extremely high standard. Contact them at 513-272-2229 or Zakira's Garage.


The crankcase casting patterns for the Offy final design single-pumper version have been recovered. Crankcases castings from this tooling can be machined for use on the following engines. Contact Stewart Van Dyne at 714-847-4417.

-Miller, Offenhauser & Meyer-Drake ..... "high or low tower" 255/270/318's (1932 thru 1957)
-Meyer-Drake ..... 252 (1957 thru 1966)
-Drake ..... 251 EXP, 168 & 36, 22 {DGS} or 19 degree 159's (1968 thru 1978)

Fossil Motorsport has new Miller, Offenhauser, Meyer & Drake 255 and 270 cylinder blocks. Details, prices, and contact info.


The 1933 and 1936 Indy-winning Millers are for sale. Contact Fossil Motorsports Inc. at 818-709-0694.


Miller parts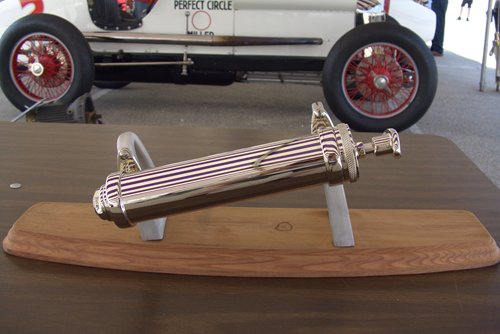 Lunkenheimer air pump reproduction - Contact Zakira's Garage at 513-272-2229




Memorabilia
The original Miller team colors (vermillion and ivory) have been identified from period articles, along with the authentic diamond-shaped Miller radiator emblem.
This new series of memborabilia, produced exclusively by the Miller/Offenhauser Historical Society, made its debut at the Amelia Island Concours, where Miller was the featured marque.

Get yours today by ordering from milleroffy@comcast.net

Shipping is an additional $7.00 priority post for your whole order.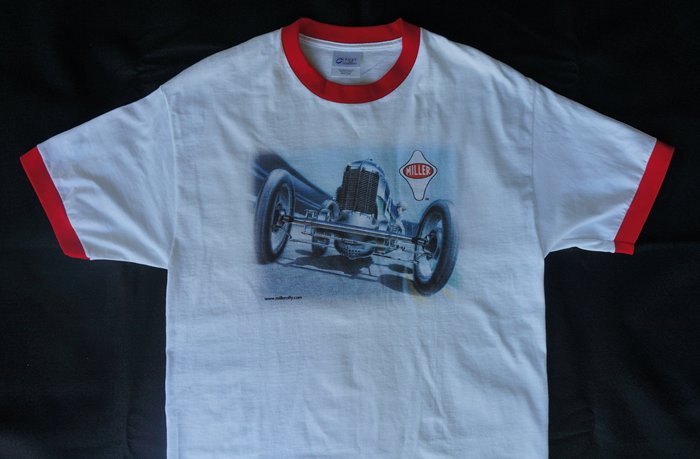 T- shirts in adult XXL, XL - $30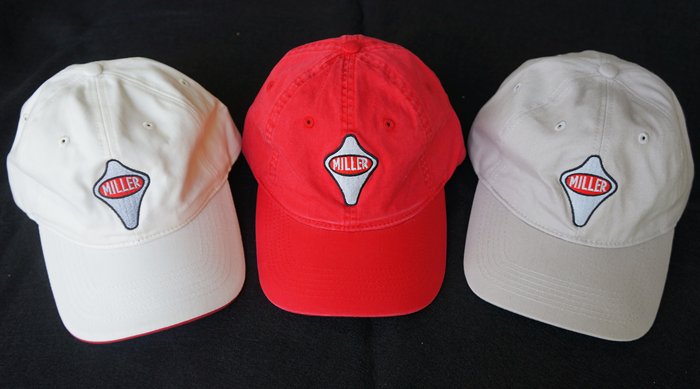 Caps in ivory with red underbill, red, gray - $20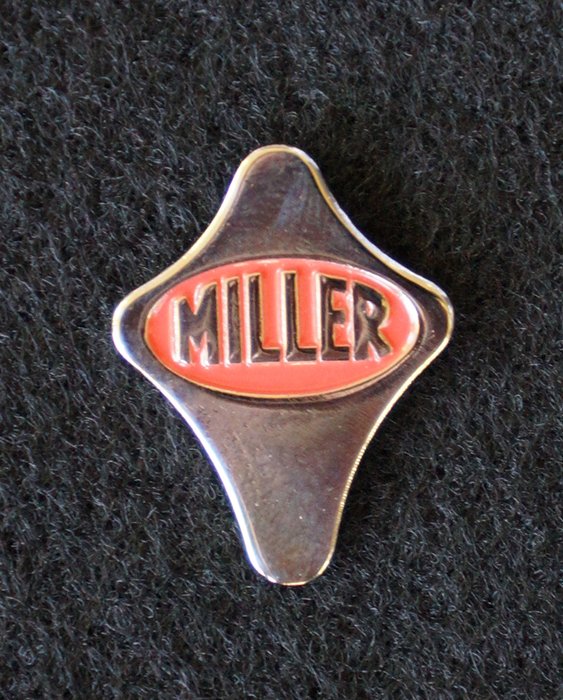 Lapel pin in chrome with vermillion, 1" tall - $10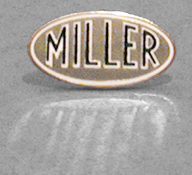 Cloisonné Miller pin (hit at the 2004 Miller meet)
7/16" x 7/8"
Available in polished gold, brushed gold, or polished nickel-chrome. Please specify finish.
$5 US postpaid
John Sanderson
3491 Mossbank Dr.
Oakland, MI
48363
email: oldcarman AT comcast.net




Miller carb bowl cover emblem, about 2"x2". It is $15.
email: milleroffy@comcast.net








For Sale by Mike Eliasohn
The Miller Dynasty (2nd edition), 1994, by Mark Dees.
The Golden Age of the American Racing Car. 1966, by Griffith Borgeson.
For prices and list (3 pages!) of other automotive books, magazines and videotapes for sale, email mikethebike2325@comcast.net or call 269-281-0797.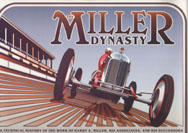 "The Miller Dynasty" by Mark Dees
The definitive book on all things Miller, and also includes the Offenhauser history. A must-have for every historic racing car enthusiast. It is 562 pages in length, printed on 70 lb book gloss paper, with an index and annotated bibliography, 564 pages of photos, drawings, and detailed text. Vintage Motorbooks still has available the now-out-of-print 2nd edition at $250. Hurry before they're all gone again. Email Logan Gray at vintagemotorbooks@comcast.net or call 503-292-7747 to get a copy.






Griffith Borgeson
Griffith Borgeson wrote over 15 books and hundreds of magazine articles on automotive history. He has long been recognized as one of the world's preeminent automotive historians. The former Editor-in-Chief of Motor Trend Magazine, Borgeson also wrote for Sports Car Illustrated Magazine (now Car & Driver) and was the European editor for Automobile Quarterly. He also worked as a consultant for the Lincoln Division of the Ford Motor Company. The following list is a sample of his many writing awards: In 1966 the first edition of The Golden Age of the American Racing Car won the Thomas McKean Award for "book of the year" from the Antique Automobile Club of America; The Society of Automotive Historians Cugnot Award for "the outstanding magazine article of 1980" for "Beginnings of the VW Beetle" published in Automotive Quarterly; The Society of Automotive Historians Benz Award for "the outstanding magazine article of 1984" for "Edmund Rumplerlcarus Bound" published inAutomotive Quarterly; and The ITALA Prize from the Associazone Italiana Per La Storia Dell'Automobile (AISA) in 1985 for his collected works regarding the history of the Italian automobile. One of his great strengths as an author was that he established personal relationships with many pioneer builders, designers, and race car drivers. His intimate knowledge of the development of automotive technology could have come only from his relationships with the greats of automotive history. He shares information with his readers that could not be gleaned simply from history books. This among other traits sets him apart from other automotive writers. Some of his other books include: The Classic Twin-Cam Engine (Dalton Watson, 1981); Bugatti by Borgeson (Osprey Publishing, 1981); and, in conjunction with the Smithsonian Institution, Miller (Motorbooks International, 1993).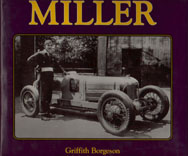 "Miller" by Griff Borgeson.
The second definitive book on Harry Miller. No long in print, but still available from used book resellers and on eBay.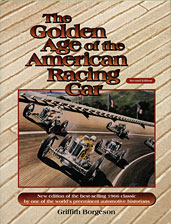 "The Golden Age of the American Racing Car" by Griff Borgeson.
A best seller and winner of the Antique Automobile Club of America's prestigious Thomas McKean Award.The Golden Age of the American Racing Car emphasizes the human side of racing history, offering insight into the men who shaped the golden age. Covering a period of time from the 1910s through the 1930s, the book describes the historical development of race car technology and presents fascinating information on race courses, designers, builders, drivers, and events. Racing pioneers covered include: Fred Duesenberg, Louis Chevrolet, Harry Miller, Leo Goossen, and Fred Offenhauser. Full of contemporary accounts and interviews. Buy it from the SAE bookstore.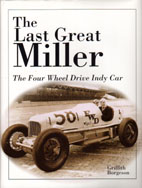 "The Last Great Miller: The Four Wheel Drive Indy Car" by Griff Borgeson
Fascinating story of one of the most sophisticated racing cars of the early 1930s. Vintage Motorbooks -- $49.95, and elsewhere.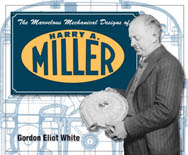 "The Marvelous Mechanical Designs of Harry A. Miller", by Gordon Eliot White, published by Iconografix Inc. Softbound, 126 pages.
Photos and text describing Miller's designs from racing cars and boats to a combat car and an engine for the Pitcairn AC-35 autogiro, passenger cars, a forerunner of midget racing cars and engines for aircraft from World War I to World War II. Miller anticipated the Stout Scarab and Buckminster Fuller's Dymaxion cab-forward road cars, even the Plymouth Prowler; designs seen here in all their glorious, impractical, inscrutable idiosyncracy. The racing cars worked. In various forms they dominated American racing for years. The marine engines were the class of power boat racing in the 1920s and won the Gold Cup as late as 1946. Miller was undeniably a genius. Designs tumbled out of his fertile mind, some wonderfully successful, some too bizarre to be built; some were put into steel and aluminum but were fated for failure. This book scans his career in all its glories and defeats from 1919 through 1942.


Available directly from Gordon White at:
PO Box 129
Hardyville, VA 23070
$32.95 + $4.95 S&H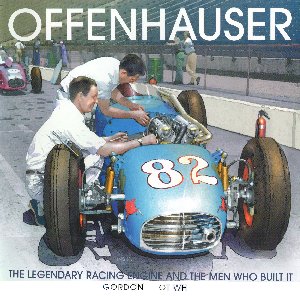 "Offenhauser" by Gordon White
The definitive book on America's most famous and longest lasting racing engine. White reviews its Miller origins and then details its development from the 1930s to the 1980s. Also included are the Offy midgets. Purchase your copy from Gordon White.
PO Box 129
Hardyville, VA 23070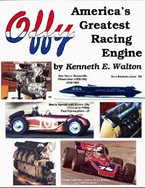 "Offy - America's Greatest Racing Engine" by Ken Walton.
Over a decade in writing, it is probably the nearest thing you'll ever find to a technical manual on the engine and also includes a lot of background and photos. Available directly from the author at
25911 E. Outer Belt Rd.
Greenwood, MO
64034-8951
- or -
KenWalton@WaltonCues.com
- or -
Phone: evenings 816-537-5231

Softbound edition $74.95 + $7.50 S&H (Limited quantity of only 100 printed)
Hardbound edition $99.95 + $7.50 S&H (Available 4th quarter 2003)
Book corrections & updates - click here to open and download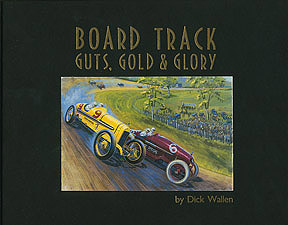 "Board Track - Guts, Gold & Glory" by Dick Wallen
One of the classic books on early American auto racing…Dick Wallen's Board Track: Guts, Gold and Glory. Published in 1990 it reviews the history of each board track written by an expert and is illustrated with over 400 period photographs and embellished with a large selection of Automobilia. It is offered at the original retail price of $100.00 plus shipping and handling. The book is essentially out of print with less than 200 copies remaining from the original printing. I always have a few copies on hand signed by Dick Wallen for my customers who do not have this important book. Board Track has been one of Wallen's most popular works and should be in the library of anyone interested in the Golden Age of American racing. Board Track is hard cover, 423 pages and over 500 pictures on gloss book paper with an index and statistical tables done by Phil Harms. Subject Index includes Louis Chevrolet, Fred Comer, Ralph DePalma, Peter DePaolo, Duesenberg, Harry Hartz, Eddie Hearne, Dave Lewis, Frank Lockhart, Harry Miller, Tommy Milton, Ralph Mulford, Jimmy Murphy, Barney Oldfield, Dario Resta, Eddie Rickenbacker, Fred Wagner, and many others. Tracks include Playa Del Rey, Oakland, Chicago, Tacoma, Omaha, Des Moines, Sheepshead Bay, Cincinnati, Uniontown, Beverly Hills, Fresno, Cotati, San Carlos, Kansas City, Altoona, Charlotte, Culver City, Laurel, Rockingham, Fulford, Atlantic City, Akron, Bridgeville, and Woodbridge.

Buy it from Gary Doyle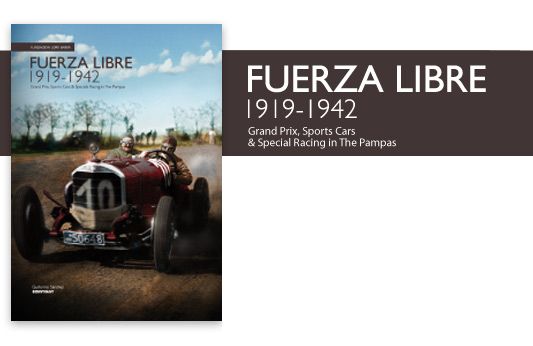 FUERZA LIBRE 1919-1942
Grand Prix, Sports Cars & Specials Racing in The Pampas
by Guillermo Sánchez.
Format: Hardcover 30.2 x 21.4 cm.
Weight: 1.625 Kg.
Pages: 370
Photos: More than 400 images
ISBN: 978-987-05-4882-9
The most valuable cars from the Vintage era, in exciting races under the Fuerza Libre regulatory framework, at the exotic circuits of the Argentine Pampas and the Patagonia, between 1919 and 1942. 370 pages, over 400 photos.
ALFA ROMEO, BENTLEY, BMW, BUGATTI, CADILLAC, CHRYSLER, DELAGE, DUESENBERG, FIAT, FORD, HUDSON, MASERATI, MERCEDES, MERCURY, PACKARD, REO, SUNBEAM, STUDEBAKER, STUTZ and others. This book also includes international participation of Argentine drivers and foreign visitors of the period.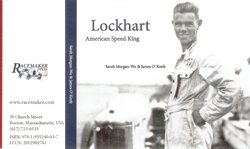 "Lockhart, American Speed King" by Sarah Morgan-Wu & James O'Keefe
The compellingly self-confident, handsome, gifted race driver, and mechanical genius named Frank Lockhart has long captured the imagination and curiosity of generations of automobile racing fans as a classic example of the "What if he had lived?" enigma. There remains even today a certain mystery about Frank's amazing talent and fearless driving ability. In a careful historical effort to set the story straight, authors Sarah Morgan-Wu and Jim O'Keefe have combined their efforts to delve into all aspects of Frank's life and career. They have left no stone unturned in an attempt to verify every bit of information. It is to their credit they have uncovered much long forgotten or hidden information that sheds important light on the true nature of Frank and his remarkable if all too short flash of brilliance on the stage of American automobile racing. The publication is dust- jacketed, hard-bound with symth-sewn binding, and printed in full color through-out on archival paper. Lavishly illustrated, with fully documented charts of Lockhart's race record, extensively detailed appendices, sourced and fully indexed. $75.00 Purchase your copy from Racemaker Press.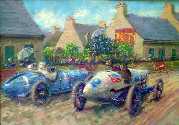 "Ralph De Palma, Gentleman Champion" by Gary Doyle
Ralph De Palma was one of the greatest race car drivers of all time. He was a champion on the early American road courses, won during the speedway era and may have been the best dirt track racer in the history of the sport. He was one of the few American drivers to compete successfully in Europe before World War II, racing in three French and the first Italian Grand Prix. Ralph De Palma will be about 350 pages on 80# matte paper with 300 varnished historic photographs, many unpublished from 25 different collections. As in the Murphy book there will be artwork to add interest, color and drama. Unlike the King of the Boards, where several artists were utilized, Gentleman Champion is being illustrated by Peter Helck and Peter Hearsey. Helck, of course, focused much of his work on De Palma's exploits while Hearsey is tackling new subject matter. It will be published in the fall of 2005. The first edition is limited to 1,500 copies individually numbered and signed. For collectors there will be a slip-cased version comprising the first 200 copies, bound in leather. Order your copy from Gary Doyle.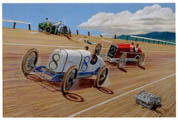 "King of the Boards, The Life and Times of Jimmy Murphy" by Gary Doyle.
This is a superb book that deserves to be in every racing enthusiast's collection. The book is about 350 pages of text, photographs, graphs, charts and paintings. It contains nearly 300 photographs, many of which have not previously been in print, and over 60 color paintings and pencil sketches. Many of the paintings were commissioned for the book. Purchase your copy at King of the Boards.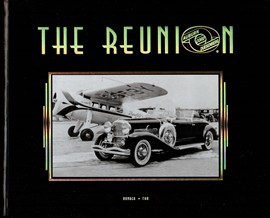 "The Reunion, #2" The 2010 event book of the Auburn Cord Duesenberg Club.
Contains 226 pages of articles with contemporary & archival photos relating to these three significant automobiles. Of particular interest to the vintage racer is the most extensive article ever on the Duesenberg walking-beam engines and the Duesenberg racing years of 1912-1919. Included are many anecdotes and a table showing the specs on all 30 variations of this unique motorcar engine. Provided is a table listing results of the nearly 400 races in which the Duesenberg Team competed between 1912-1919 (dirt, board track and Indy). Also, an article memorializing the special relationship of Harry Miller and E. L. Cord. This feature discusses the genesis of the Miller-Cord and the 303 Miller V-16. Includes the story of Chuck Davis locating and restoring the famous Saulpaugh Miller racer. Many photos and blueprints.
Hardbound [$50]
Make check payable to "ACD Club". Send to:
John Baeke
5116 W. 164th St.
Overland Park, KS
66085
The ACD Club is a 501(c)(3) corporation.
Limited quantities of the 2009 edition of The Reunion also available. This book was awarded the 2010 Karl Benz award by the Society of Automotive Historians. [$30]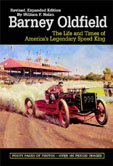 "Barney Oldfield: The Life and Times of America's Legendary Speed King" by William F. Nolan.
Barney was America's most flamboyant race driver www.rumbledrome.com/barney.html. He took part in over one-thousand race meets between 1902 and 1918. The machines he drove included Henry Ford's '999', Alexander Winton's 'Bullet', the Peerless 'Green Dragon', the 200 hp German racer they labeled the 'Blitzen Benz', and Harry Miller's Golden Submarine. Purchase your copy at Brown Fox Books.





Other books of interest are:Design & Development of the Indy Racing Car" -- $15; Road & Track and Sports Car Graphic back issues about Miller & Duesenberg; AQ back issues at $15 about Miller & Duesenberg; and many other automotive books - see the Recommended Books page. Please email Logan Gray at vintagemotorbooks@comcast.net or call 503-292-7747 to get a copy.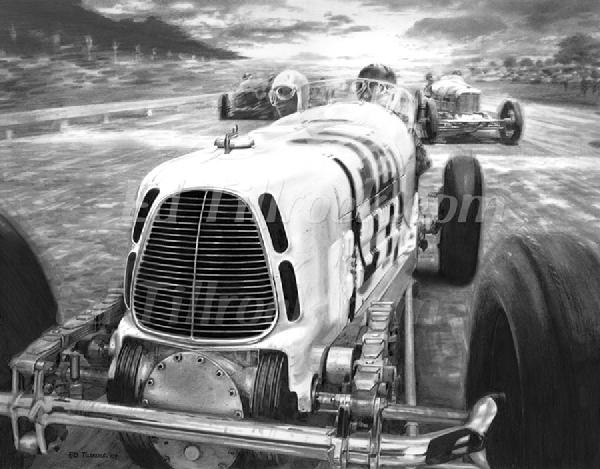 Automotive pencil renderings by Ed Tillrock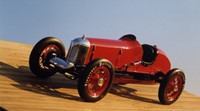 1/8 scale custom handcrafted vintage race care models by John Snowberger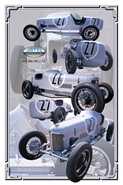 Limited edition photo illustrations by Ed Dooley (1931 Miller V16, 1935 Miller-Ford, 1931 Miller, 1927 Miller, and more)


Miller bronzes motoring sculpture by Steve Posson (Miller 91FD, Miller 183 with Lockhart, Offy, other famous marques)

Fossil Motorsports Inc.
9800 D Topanga Canyon Blvd, #350
Chatsworth Ca. 91311
E-mail: Fossilmotorsport@ aol.com
Phone 818-709-0694
Fax. 818-718-8221

Unfortunately due to the supplying foundry going out of business we are left with a very limited supply of raw castings therefore once the current stock is exhausted we are uncertain about our future ability to locate and qualify a quality replacement or the time necessary to do so.

With the above current situation along with the current cost economics involved with the production of the finished product we are no longer able to quote a finished price or anticipated delivery until the time of inquiry of an order that will be accompanied by 75% deposit.


Fossil Motorsports has sold and delivered over 26 blocks since undertaking production.